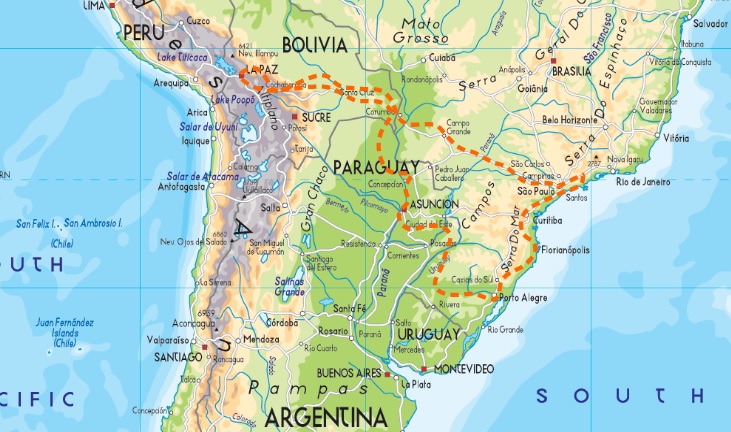 [ita] Mobilità
Il viaggio iniziatico di Echoes of Ecologies è stato un itinerario tra Brasile, Argentina, Paraguay e Bolivia (2016), per conoscere storie e pratiche ecologiche di sostenibilità socioambientale. Affinché si possano diffondere maggiormente ed uniformemente, siamo profondamente convinti del bisogno di una rivoluzione gentile che porti ad un cambio di paradigma, sostituendo la creatività alla competitività e la cooperazione all'individualismo. Crediamo che per smettere di concepire il mondo come un posto da sfruttare e iniziare a sentirlo nuovamente come il luogo in cui vivere è necessario divenire tutti/e protagonisti/e del cambiamento – dalla nostra vita fino alle grandi lontane questioni globali. Per questo decidemmo di metterci all'opera per narrare chi sta già contribuendo a questa sovversione. A chi si è chiesto "perché proprio in Sud America?", rispondiamo che vogliamo vedere il mondo da più prospettive possibili. Allontanarci dal nostro contesto abituale ci aiuta a fare luce sugli attuali temi ecologici – temi che ci toccano globalmente, ma sono definiti localmente.
Durante quattro mesi, con scambio lavoro-ospitalità, abbiamo condiviso l'esperienza di chi si occupa di: agricoltura sostenibile e il delicato tema dei transgenici, permacultura e agroecologia, sovranità alimentare e conservazione di semi indigeni, diritto alla terra e all'acqua, riciclo e riappropriazione di spazi urbani abbandonati. Ma anche chi aiuta a sensibilizzare tramite media, scrittura e varie forme artistiche. Associazioni, scuole popolari, collettivi o singole persone impegnate quotidianamente per una vita sempre più sostenibile.
Come si poteva immaginare, il tragitto in Sud America non ha seguito esattamente la mappa tracciata prima di partire… col senno di poi, possiamo dire che metà dei posti visitati li avevamo contattati già dall'Italia e l'altra metà sono venuti a noi come sorprendenti cambi di programma…
è vero, il viaggio è iniziato a São Paulo do Brasil con gli amici dell'Horta CCSP, ma prima di arrivare al giorno di quella presentazione ufficiale eravamo già stati – ancora intontiti dall'aereo – all'Instituto Chão e al mutirão a Praça da Nacente. L'energia delle persone conosciute al principio ci ha portato fino a Horta das Corujas, Horta da Saude, Casa Rodante, Morada da Floresta e Cidades Sem Fome. Niente male come inizio! Una piena immersione nell'agroecologia urbana paulista.
Da lì, cambio eccezionale di paesaggio, ci spostiamo a nord fino alle verdi colline di Visconde de Mauá per far visita all'ecologista Joaquim Moura, che tra una parola e l'altra ci ha messo in contatto con l'agronomo Marquito. Si parte verso sud: a Florianopolis siamo ospiti della sua famiglia. Il contesto florianense ci offriva tanto, noi abbiamo scelto Revolucão dos Baldinhos, Morro da Mariquinha e Rio Vermelho.
Nel frattempo ci risponde Viviane, una dottoranda che tra tante cose si occupa dei semi. Ci aspetta a Porto Alegre da dove partiamo assieme per il centro di Rio Grande do Sul, Ibarama. Lì, come una famiglia, ci accolgono gli agricoltori guardiani delle sementi.
Passiamo il confine brasiliano-argentino su una zattera, per raggiungere Misiones, dove una strada di terra rossa ci conduce fino alla scuola della Colonia Primavera. Dopo la permanenza da Martin e Alejandra affrontiamo di nuovo la frontiera. Due giorni ad Iguazú e col pulmino entriamo in Paraguay.
Ad Areguá, ci abbracciano le strutture bioarchitettoniche ideate da Joe e Gustavo del Càntaro. Dopo, un altro autobus e siamo nella capitale Asunción, dove ci ospitano Mercadito Campesino e Colectivo TierraAdentro. Tra le varie attività, conosciamo meglio anche le tematiche delle donne contadine ed indigene. Infine, a Luz Bella, facciamo parte della eco-resistenza con gli agricoltori alternativi.
Ci mettiamo un po' per attraversare il Pantanal, battello-barchetta-autostop e arriviamo in Bolivia. Da Santa Cruz de la Sierra verso Cochabamba per giungere a Kusikuna. Lungo le Ande saliamo ancora di più fino a Nuestra Señora de La Paz, dove facciamo parte del gruppo Alternativas. Ospiti dell'agronoma Mariela, scopriamo anche il subtropico dello Yungas. Poi, alcuni giorni passati sull'Isla del Sol al Lago Titicaca e si conclude la nostra esperienza boliviana.
Tanti autobus quante le ore lungo il Mato Groso do Sul per tornare a São Paulo da Mehl, Chris e Lana. Un festival di agricoltura urbana e un mutirão all'Horta CCSP, era tutto quello che potevamo desiderare!
Detto, fatto: 4 mesi, 4 paesi, 9070km.
[eng] Mobility
Echoes of Ecologies' initiatory travel was an itinerary through Brazil, Argentina, Paraguay and Bolivia (2016), to find out about ecological stories and practices of socioenvironmental sustainability. As to largely and uniformly spread them, we profoundly believe in the need for a gentle revolution that leads to a change of paradigm, substituting competitiveness with creativity and individualism with cooperation. We are convinced that to stop perceiving the world as a space to exploit and start feeling it again as the place to live in, we must all become protagonists of such change – from our house till big far away issues. That is why we got up to narrate who is already contributing to the subversion. To those who asked "why South America?", we reply that we want to see the world from as many perspectives as possible. Detaching from our habitual context helps us sheding new light on current ecological questions – questions that affect us globally, though are defined locally.
During four months, on a work-hospitality basis, we shared the experience of those who deal with: sustainable agriculture and the delicate matter of transgenic crops, agroecology and permaculture, food sovereignty and protection of native seeds, land and water rights, recycling and reappropriation of abandoned urban spaces. But also who helps raising awareness through the media, writing and various artistic forms. Associations, popular schools, collectives or individuals who are daily putting effort for a more sustainable life.
Like we imagined, the journey in South America didn't exactly follow the map we drew before departure… right now we can say that while half the places had already been contacted from Italy, the other half came to us as surprising changes of plan…
the travel really started in São Paulo do Brasil with our friends from Horta CCSP, though still jet-lagged – before that official introduction day – we had already been at Instituto Chão and Praça da Nacente's mutirão. The people we met at the beginning spread as much energy as to take us till Horta das Corujas, Horta da Saude, Casa Rodante, Morada da Floresta and Cidades Sem Fome. What a start! A full immersion in Paulista's urban agroecology.
Then a great change of landscape leads us North till Visconde de Mauá's green hills, where we visited ecologist Joaquim Moura, who speaking and talking connected us with agronomist Marquito. Gone Southward: in Florianopolis we were hosted by his family. The Florianense context offered a lot, we chose Revolucão dos Baldinhos, Morro da Mariquinha and Rio Vermelho.
Meanwhile we get a reply from Viviane, a PhD who among many things cares for seeds. She was awaiting in Porto Alegre, where we left together to the centre of Rio Grande do Sul, Ibarama. There, like in a family, we were welcomed by the seeds' keepers agriculturists.
On a raft, we crossed the Brazilian-Argentinian border to reach Misiones, where a red-soiled road led us to Colonia Primavera's school. After our stay with Martin and Alejandra once again we hit the border. Two days at Iguazú and we entered Paraguay by bus.
In Areguá, we were embraced by bioarchitectonic structures created by Joe and Gustavo from El Cántaro. Afterwards, another bus and we are in the capital Asunción, where we were hosted by Mercadito Campesino and Colectivo TierraAdentro. Among various activities, we got closer to the situation of rural and indigenous women. In the end, in Luz Bella, we were involved in the eco-resistance of alternative agriculturists.
It took us a while to cross the Pantanal, ferry-littleboat-hitchhiking and we arrived in Bolivia. From Santa Cruz de la Sierra towards Cochabamba to reach Kusikuna. Through the Andes we kept going upward all the way to Nuestra Señora de La Paz, where we stayed with Alternativas' group. Guests at agronomist Mariela's place, we also discovered subtropical Yungas. After few days at Isla del Sol on Lake Titicaca, it was the end of our Bolivian experience.
We took as many buses as the hours through Mato Groso do Sul, to get back to São Paulo to Mehl, Chris and Lana. An urban agriculture's festival and a mutirão at Horta CCSP, it was all we could desire!
Said, done: 4 months, 4 countries, 9070km.
[esp] Mobilidad
El viaje inicial de Echoes of Ecologies fue un itinerario a través Brasil, Argentina, Paraguay y Bolivia (2016), para conocer historias y prácticas ecológicas de sustentabilidad socioambiental. Para que se difundan en gran medida y uniformemente, creemos profundamente en la necesidad de una revolución dulce que traiga un cambio de paradigma, substituyendo la creatividad a la competitividad y la cooperación al individualismo. Estamos convencidos que para dejar de concebir el mundo como un espacio para explotar y empezamos a sentirlo de nuevo como el lugar para vivir, hay que ponernos todo/as como protagonistas de este cambio – desde nuestra casa hasta las grandes lejanas cuestiones globales. Por eso decidimos poner manos a la obra para narrar quien está contribuyendo ya a esta subversión. A quien se preguntó "¿porqué el Sur América?", contestamos que queremos ver el mundo desde cuantas más perspectivas posibles. Alejarse de nuestro contexto habitual nos permite aclarar temas ecológicos actuales – temas que nos afectan globalmente, pero están definidos localmente.
Durante cuatro meses, con troca de trabajo-hospitalidad, compartimos la experiencia de quien se ocupa de: agricultura sustentable y el delicado tema de los transgénicos, permacultura y agroecología, soberanía alimentaria y protección de semillas criollas, derecho a la tierra y agua, reciclaje y reapropiación de espacios urbanos abandonados. También de quien ayuda a sensibilizar con los medios, la escritura y varias formas artísticas. Asociaciones, escuelas populares, colectivos o personas empeñadas diariamente para una vida más sustentable.
Como podíamos imaginar, el trayecto en Sur América no siguió exactamente el mapa trazado antes de partir… ahora podemos decir que la mitad de los lugares visitados ya los habíamos contactados desde Italia y la otra mitad llegaron como sorprendentes cambios de programa…
de verdad el viaje empezó en São Paulo do Brasil con los amigos de Horta CCSP, pero antes de ese día de presentación oficial ya estuvimos – aún adormecidos por el avión – en el Instituto Chão y mutirão de Praça da Nacente. La energía de las personas conocidas al principio nos llevó hasta Horta das Corujas, Horta da Saude, Casa Rodante, Morada da Floresta y Cidades Sem Fome. Muy bien como inicio! Una plena imersión en la agroecología urbana paulista.
De allí, un excepcional cambio de paisaje nos lleva a norte hacia los valles verdes de Visconde de Mauá donde visitamos al ecologista Joaquim Moura, que entre una palabra y otra nos puso en contacto con el agrónomo Marquito. Viajamos hacia el sur: en Florianopolis estuvimos con su familia. El contexto florianense ofrecía mucho, nosotros elegimos Revolucão dos Baldinhos, Morro da Mariquinha y Rio Vermelho.
Mientras tanto nos contesta Viviane, una doctoranda que entre muchas cosas se ocupa de semillas. Nos esperaba en Porto Alegre, de donde partimos juntos hacia el centro de Rio Grande do Sul, Ibarama. Allí, como una familia, nos acogieron los agricultores guardianes de semillas.
Cruzamos la frontera brasileña-argentina sobre una balsa, para llegar a Misiones, donde una carretera de tierra roja nos lleva a la escuela de la Colonia Primavera. Tras nuestra estadía con Martin y Alejandra nos dirigimos de nuevo hacia la frontera. Dos días en Iguazú y con un autobus entramos en Paraguay.
En Areguá, nos abrazaron las estructuras bio-arquitectónicas ideadas por Joe y Gustavo del Cántaro. Después, otro autobus y estamos en la capital Asunción, donde encontramos hospedaje con Mercadito Campesino y Colectivo TierraAdentro. Entre varias actividades, conocimos mejor la situación de las mujeres campesinas e indígenas. Finalmente, en Luz Bella, somos parte de la eco-resistencia con los agricultores alternativos.
Tardamos un poco para cruzar el Pantanal, barco-lancha-dedo y entramos en Bolivia. Desde Santa Cruz de la Sierra hacia Cochabamba para llegar a Kusikuna. Por los Andes subimos aun más hasta Nuestra Señora de La Paz, donde tuvimos parte del grupo Alternativas. Huéspedes de la agrónoma Mariela, descubrimos también el subtrópico de los Yungas. Después, unos días en la Isla del Sol en el Lago Titicaca y termina nuestra experiencia boliviana.
Tantos autobuses cuantas las horas por el Mato Groso do Sul para volver a São Paulo con Mehl, Chris y Lana. Un festival de agricultura urbana y un mutirão en la Horta CCSP, era todo lo que podíamos desear!
Dicho, hecho: 4 meses, 4 paises, 9070km.