[ita] La volta passata vi abbiamo parlato di come una comunità si occupa della propria ripresa sociale (vedi Revolucão dos Baldinhos), così continuiamo su quest'onda di speranza narrandovi il caldissimo pomeriggio passato nel Morro da Mariquinha. Anche questo luogo di emarginazione, adiacente al centro di Florianopolis, si sta rimettendo in piedi da solo soprattutto grazie alla spinta entusiasta del presidente del quartiere, Alex Correia.
[eng] Last time we talked about a community that takes care of its own social revival (see Revolucão dos Baldinhos), thus we keep floating on this hopeful wave telling you about a hot afternoon spent in Morro da Mariquinha. This marginalised place, right next to the centre of Florianopolis, is also rising up especially thanks to the quarter's president Alex Correia.
[esp] La última vez hemos hablado de como una comunidad cuida de su propio resurgimiento social (ver Revolucão dos Baldinhos), así que seguimos con esta ola de esperanza contando de la tarde caliente que pasamos en el Morro da Mariquinha. También este lugar de marginación, cerca del centro de Florianopolis, se está levantando solo sobre todo gracias a la ayuda del presidente del barrio, Alex Correia.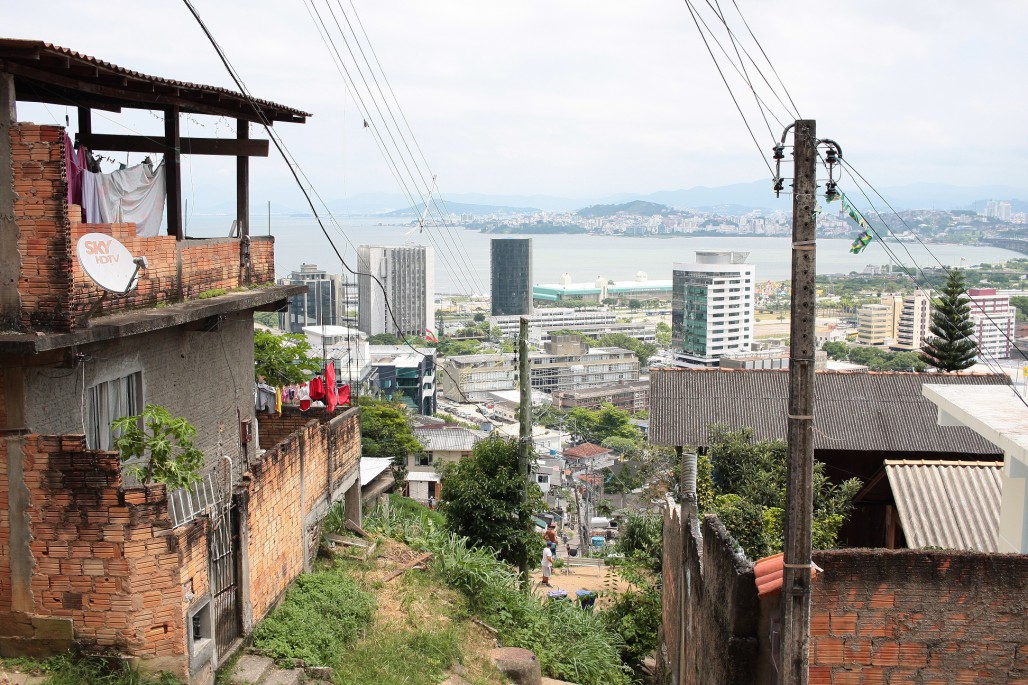 [ita] Quest'uomo esuberante col sorriso a 360° ci parla con orgoglio di un sogno: rendere Mariquinha un posto di auto-produzione, sostenibilità ecologica e sociale oltre ad un punto di attrazione turistica. Infatti, salendo per le varie stradine, ci rendiamo conto che il quartiere si trova incastonato in una montagna verde che guarda al mare. Giunti quasi al picco conosciamo il signor Tio Loro che gentilmente ci mostra come si prende cura della vegetazione nativa, attuando giorno dopo giorno la sua resistenza alla negatività. Vari fattori (agricoltura industriale, canalizzazione dell'acqua, spopolamento…) hanno contribuito al degrado dell'area, che oggi risulta ancora più isolata per via della sua posizione geografica. Tuttavia Alex ci assicura che sarà proprio quest'ultima a far sì che il posto si salvi, in una città dove parti di oceano sono state ricoperte da colate di cemento (negli anni '80 il mare arrivava fino al palazzo giallo nella foto)…
[eng] This exuberant-360°smile man tells us proudly of his dream: make Mariquinha into a place of self-production, social and ecological sustainability as well as a tourist attraction point. In fact, going up the little streets, we become aware that the quarter is nestled in a green mountain looking at the sea. Almost at the top we meet Tio Loro who kindly shows us around the native vegetation, day by day acting his resistance against negativity. Various factors (industrial agriculture, water canalization…) contributed to the area degradation, which today seems even more isolated given its geographical position. However Alex ensures that this last one will be the place's salvation, in a city where many parts of the ocean were covered with tons of cement (until the '80 the sea reached the yellow building in the picture!)…
[esp] Este hombre exuberante con la sonrisa de 360° narra de su sueño con orgullo: hacer de Mariquinha un lugar de auto-produccion, sustentabilidad ecológica y social además de un punto de atracción turistica. De hecho, subiendo las callecitas, nos damos cuenta de que el barrio esta enclavado en una montaña verde que mira al mar. Casi al pico encontramos Tio Loro que amablemente nos enseña la vegetación nativa, actuando día tras día su resistencia contra la negatividad. Varios factores (agricultura industrial, canalización del agua, despoblamiento…) contribuyeron a la degradación de la area, que hoy parece aun más aislada por su posición geográfica. Pero Alex nos asegura que esta misma va a salvar este lugar, en una ciudad donde muchas partes del oceano se cubrieron con toneladas de cemento (¡en los '80 el mar llegaba hacia el edificio amarillo de la foto!)…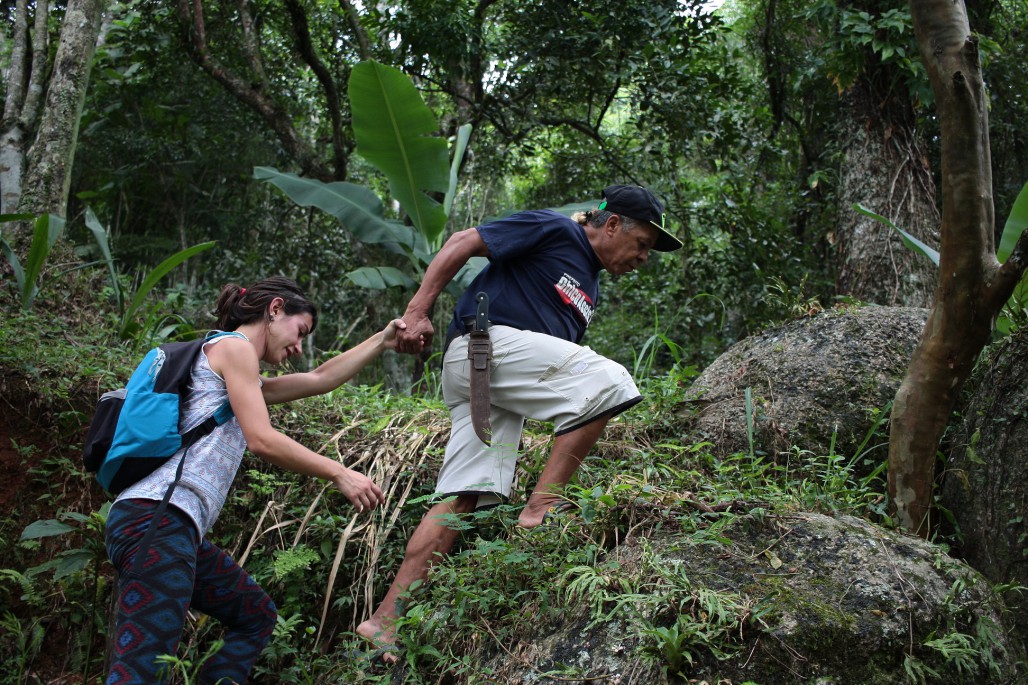 [ita] Come guardiano dell'altura, Tio Loro ci accompagna fino ad un passaggio segreto tra gli alberi e le rocce, per vedere l'intera città in basso. Un momento emozionante per noi e per loro, perché lì ci siamo giurati che la prossima volta che andremo a Floripa, Maraquinha sarà nuovamente un paradiso ovvero una comunità sostenibile che si prende cura delle proprie tradizioni, delle proprie sorgenti d'acqua, esaltando i talenti degli artisti locali e promuovendo la diversità, per questo ricchezza, culturale. Vi ringraziamo per averci permesso la visita – anche per le banane, goiaba, limoni e jaca a kilometro zero!
P.s. Dove abbiamo bevuto la prima caipirinha? Nel Morro da Mariquinha!!
[eng] As the peek's guardian, Tio Loro accompanies us until a secret passage through trees and rocks, to see the city from above. It was a strong moment for us all, because that was when we swore that next time we'll be in Floripa, Mariquinha will be a paradise again that is a sustainable community which takes care of its own traditions, its own headwaters, expressing local artist's talents and promoting cultural diversity. We thank you for allowing us to this visit – also for those bananas, goiaba, lemons and jaca straight from the cultivator!
P.s. Where did we drink our first caipirinha? At Morro da Mariquinha!!
[esp] Como guardián del cerro, Tio Loro nos acompaña hacia un pasaje secreto entre árboles y rocas, para ver la ciudad desde la altura. Fue un momento emocionante para nosotros y ellos, porque allí juramos que la próxima vez que estaremos en Floripa, Mariquinha va a ser nuovamente un paraiso o sea una comunidad sustentable que guarda sus tradiciones, sus fuentes de agua, exaltando los talentos de artistas locales y promovendo la diversidad cultural. Os agradecemos por permitirnos esta visita – también por las bananas, goiaba, limones y jaca a kilómetro '0'.
P.s. ¿Dónde bebemos nuestra primera caipirinha? ¡En el Morro da Mariquinha!!