In questo spazio ringraziamo chi ci ha sostenuto nella ricerca itinerante del 2016 e chi continua a farlo giorno dopo giorno nell'apprendimento dinamico. Seguiteci fino in fondo alla pagina per le nostre nuove /  In this space we thank those who supported our travelling research in 2016 and those who keep doing it day by day in the dynamic learning. Follow us till the page bottom for our news / En este espacio agradecemos a quienes nos apoyaron en la investigación itinerante del 2016 y quienes continúan día tras día en el aprendizaje dinámico. Seguídnos hasta abajo en la página para nuestras noticias.

Un abbraccio forte alla mamma Pina Filia per tutto il suo appoggio ed il coraggio!  /  A big hug goes to mum Pina Filia for all her support and courage!  /  Un abrazo fuerte para la madre Pina Filia por todo su apoyo y valentía!
L'Associazione Italiana del Turismo Responsabile riconosce gli obiettivi del nostro progetto come vicini ai propri ideali e patrocina il viaggio del 2016 (Ita)  /  The Italian Association for Responsible Tourism recognises our project's goals as close to their own ideals and it sponsors the 2016 travel (Ita)  /  La Asociación Italiana para el Turismo Responsable reconoce los objetivos de nuestro proyecto por ser cercanos a sus propios ideales y patrocina nuestro viaje de 2016 (Ita)


Newsletter Aitr agosto 2016
Newsletter Aitr settembre 2016
Newsletter Aitr gennaio 2017
Ecco la nostra prima intervista con la rivista Terra Nuova (click sull'immagine per leggere), con la collaborazione narrativa (Ita)  /  Here is our first interview with Terra Nuova magazine (click on the image to read), with our narrative partnership (Ita)  /  Aquí está nuestra primera entrevista con la revista Terra Nuova (click en la imágen para leer), con la colaboración narrativa (Ita)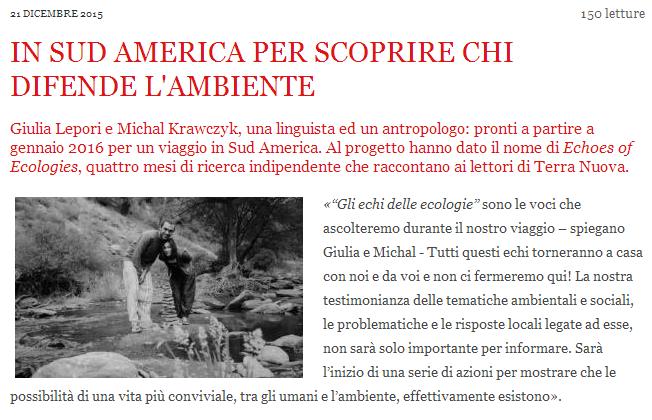 Storie pubblicate sul viaggio del 2016  /  Stories published on the 2016 travel  /  Historías publicadas sobre el viaje de 2016 (Ita):
L'agricoltura urbana raccontata dai giovani
L'incontro col maestro ecologista Joaquim Moura
Cuidar y Educar ovvero la cura con l'educazione
In Paraguay dalla scuola verso la campagna
I contadini paraguaiani per la biodiversità
Cochabamba: costruendo una comunità ecoattiva
Nell'orto urbano di La Paz
Giulia e Michal e gli echi delle tante ecologie riscoperte
La spontaneità delle piante. Il movimento 'pancs' in Brasile
In Argentina per l'educazione alla libertà
Il Paraguay delle meraviglie
Dalla Sardegna alla Bolivia: la storia di Luisa e della sua "scuola nuova"
Uno speciale ringraziamento alla Repubblica Nomade per il fondamentale "passaparola" (Ita)  / Many thanks to Repubblica Nomade for their fundamental "word of mouth" (Ita)  /  Muchas gracias a Repubblica Nomade para su importante "boca a boca" (Ita)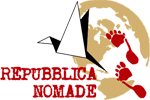 Messaggio di diffusione agosto 2016 Repubblica Nomade
Echoes of Ecologies a Sassari e a Lecco

Etnosystem.pl pubblica un articolo sul nostro progetto (click sull'immagine per leggere) /  Etnosystem.pl published an article about our project (click on the image to read) /  Etnosystem.pl publica un artículo sobre nuestro proyecto (click en la imágen para leer):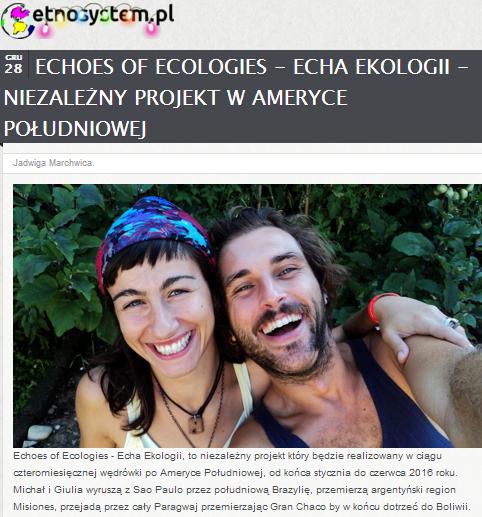 La rivista online Ulicaekologiczna.pl ci aiuta a trasmettere la notizia della nostra ricerca e ci segue passo per passo durante il viaggio itinerante (click sull'immagine per leggere) (Pol)  /  Online magazine Ulicaekologiczna.pl helps us announce our research's news and follows us step by step (click on the image to read) throughout the itinerant travel (Pol)  /  La revista online Ulicaekologiczna.pl nos ayuda a transmitir la noticia de nuestra investigación y nos sigue durante el viaje itinerante (click en la imágen para leer) (Pol)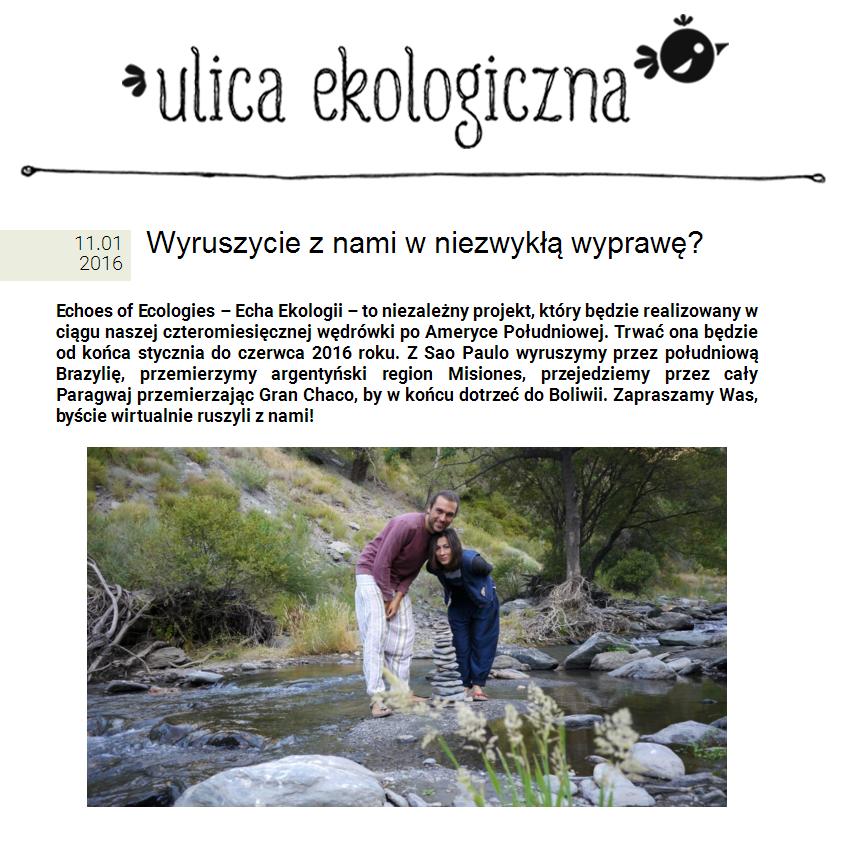 Storie pubblicate  /  Stories published  /  Historías publicadas (Pol):
Echoes of Ecologies nasza pierwsza relacja z podrozy
Eskapada brazylijska Giulii i Michala trwa
Cuidar y educar czyli troska edukacja
Od Szkoły w stronę wsi: nasze pierwsze kroki w Paragwaju
Rolnicy z Paragwaju w imię różnorodności biologicznej
Cochabamba: budując społeszność ekoaktywną
Z gór, przez tropik / aż do jeziora! Ostatnia przygoda w Boliwii
Giulia i Michał i echa wielu odkrytych ekologii
Accomunati dagli stessi ideali, anche Eathical.it scrive di noi (click sull'immagine per leggere) (Ita)  /  Sharing the same ideals, also Eathical.it wrote about us (click on the image to read) (Ita)  /  Compartiendo los mismos ideals también Eathical.it escribió sobre nosotros (click en la imágen para leer) (Ita)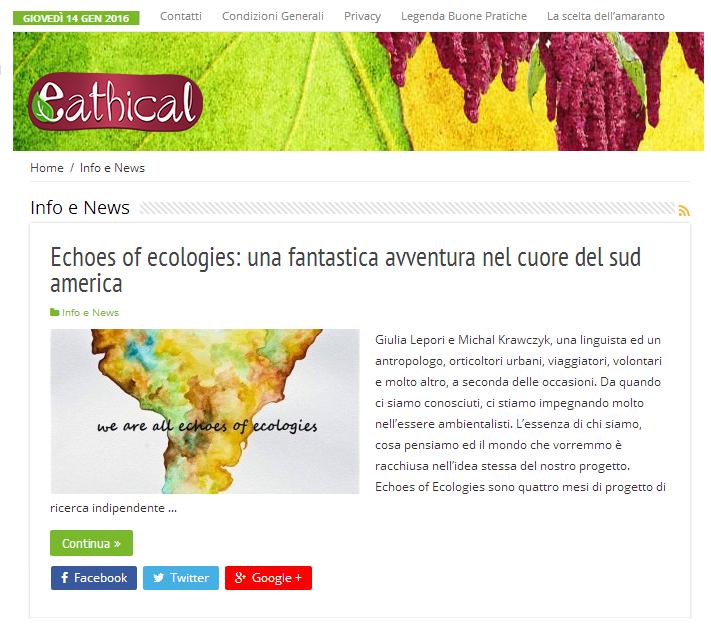 01/2016 Echoes of Ecologies fluttua sulle Onde Furlane. Si ringraziano Kekko e Moreno per l'intervista, i bei suoni e la buona serata passata assieme. L'eco riverbera, ascoltateci! (Ita)  /  Echoes of Ecologies floats on Onde Furlane. We thank Kekko and Moreno for the interview, nice sounds and a pleasant evening together. The echo reverberates, listen up! (Ita)  /  Echoes of Ecologies fluctúa en Onde Furlane. Gracias a Kekko e Moreno para la entrevista, los lindos sonidos y la buena tarde pasada juntos. El Eco reverbera, escuchádnos! (Ita)

A chi ha contribuito alla nostra raccolta fondi 2016, GRAZIE!  /  To those who contributed to our crowdfunding, THANK YOU!  /  A quien contribuyó a nuestra financiación colectiva, GRACIAS!
02/2016 Echi delle ecologie brasiliane, intervista sulla radio locale di Sobradinho e l'articolo su Gazeta da Serra (click sull'immage per leggere) (Por) /  Echoes of Brazilian ecologies, interview for local Radio Sobradinho and the article on Gazeta da Serra (click on the image to read) (Por) /  Ecos de ecologías brasileñas, entrevista para la radio local de Sobradinho y el artículo en Gazeta da Serra (click en la imágen para leer) (Por)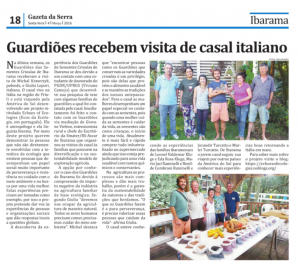 03/2016 Dal Paraguay, la nostra intervista alla radio comunitaria della Colonia Luz Bella (Spa)  /  From Paraguay, our interview on community radio at Colonia Luz Bella (Spa)  /  Desde Paraguay, nuestra entrevista para la radio comunitaria de la Colonia Luz Bella (Esp)

09/2016 Grazie alla giornalista Francesca Arca per la bellissima intervista. Una mattina a Sassari presso Radio Venere con tante emozioni!  /  Thanks to journalist Francesca Arca for the wonderful interview. One morning in Sassari at Radio Venere with many emotions!  (Ita) /  Gracias a la periodista Francesca Arca por esta maravillosa entrevista. Una mañana en Sassari en Radio Venere con muchas emociones! (Ita)

03/2017 Ringraziamo la rivista Sassari Ieri…Oggi…Domani e Francesca Arca per l'articolo che racconta il nostro viaggio / Thanks to magazine Sassari Ieri…Oggi…Domani and Francesca Arca for the article on our travel (Ita)  /  Gracias a la revista Sassari Ieri…Oggi…Domani y Francesca Arca por el artículo sobre nuestro viaje (Ita)

11/2017 La rivista Terra Nuova pubblica un nostro itinerario di viaggio per le scuole alternative in Sud America  /  Magazine Terra Nuova publishes our itinerary through alternative schools in South America (Ita)  /  La revista Terra Nuova publica nuestro itinerario por las escuelas alternativas en Sur América (Ita)

02/2018 Un racconto delle giornate formative di 'Fare la Diversità', alla neonata Casa dei Semi della Sardegna  /  A recount of the training days of 'Making the Difference', at the newborn House of Seeds in Sardinia  (Ita)  /  Un cuento del los días de formación de 'Hacer la Diversidad', en la recién nacida Casa de las Semillas de Cerdeña (Ita)

03/2018 Coltivare per un mondo piccolo. Traduzione italiana di un articolo di Frances Moore Lappé per GRAIN  /  Farming for a small planet. Italian translation of Frances Moore Lappé's article for GRAIN  /  Coltivare per un mondo piccolo (Cultivar para un mundo pequeño). Traducción italiana de un artículo de Frances Moore Lappé para GRAIN
08/2018 Un racconto di fiori sulla piattaforma di storie di piante e persone Herbaria 3.0 (Ing e Ita)  /  A story on flowers on the platform of stories of plants and people Herbaria 3.0 (Eng and Ita)  /  Un cuento de flores en la plataforma de historias de plantas y personas Herbaria 3.0 (Ing e Ita)