[ita] Chilometri transoceanici, cambio di costumi, cibo e clima. Siamo tornati in Europa__dopo quattro stati sud americani, dopo quattro mesi. Ma con la testa siamo ancora lì, con quella vegetazione, quei suoni, quelle visioni e le persone. Nonostante sia la fine… ci dispiace, sappiamo che ci avevate preso gusto (anche noi!)… vogliamo percepirla come un inizio_ perché la vita e la natura sono rotonde e tutto ciò che inizia finisce e comincia allo stesso tempo. Così, sia per rendere il nostro viaggio circolare sia perché di agricoltura urbana vi avevamo scritto nel post precedente, abbiamo deciso di dedicare la nostra ultima attività ecologica in Brasile ad un altro mutirão dell'Horta CCSP, dove tutto ebbe inizio.
[eng] Transoceanic kilometers, change of habits, food and climate. We're back in Europe__after four South American states, after four months. But in our minds we're still there, with that vegetation, those sounds, those visions and people. Even though it is the end… sorry, we know you were enjoying it (we too!)… we'd like to think of it as a beginning_because life and nature are round and all that begins ends and starts at the same time. So considering our travel as circular and the previous post on urban agriculture we decided to dedicate our last ecologic activity in Brazil to another Horta CCSP's mutirão, where all began.
[esp] Kilometros transoceánicos, cambio de costrumbres, comida y clima. Volvimos a Europa__tras cuatro estados sur americanos, tras cuatro meses. Pero con las cabezas todavía estamos allí, con esa vegetación, esos sonidos, esas visiones y las personas. Aunque es la fin… perdon, sabemos que les gustaba (a nosotros también!)… queremos percibirla como un nuevo principio_porque la vida y la naturaleza son redondas y todo lo que empieza se acaba y comienza al mismo tiempo. Entonces considerando nuestro viaje circular y el post anterior sobre la agriculta urbana, hemos decidido dedicar nuestra última actividad ecológica al mutirão de la Horta CCSP, donde todo empezó.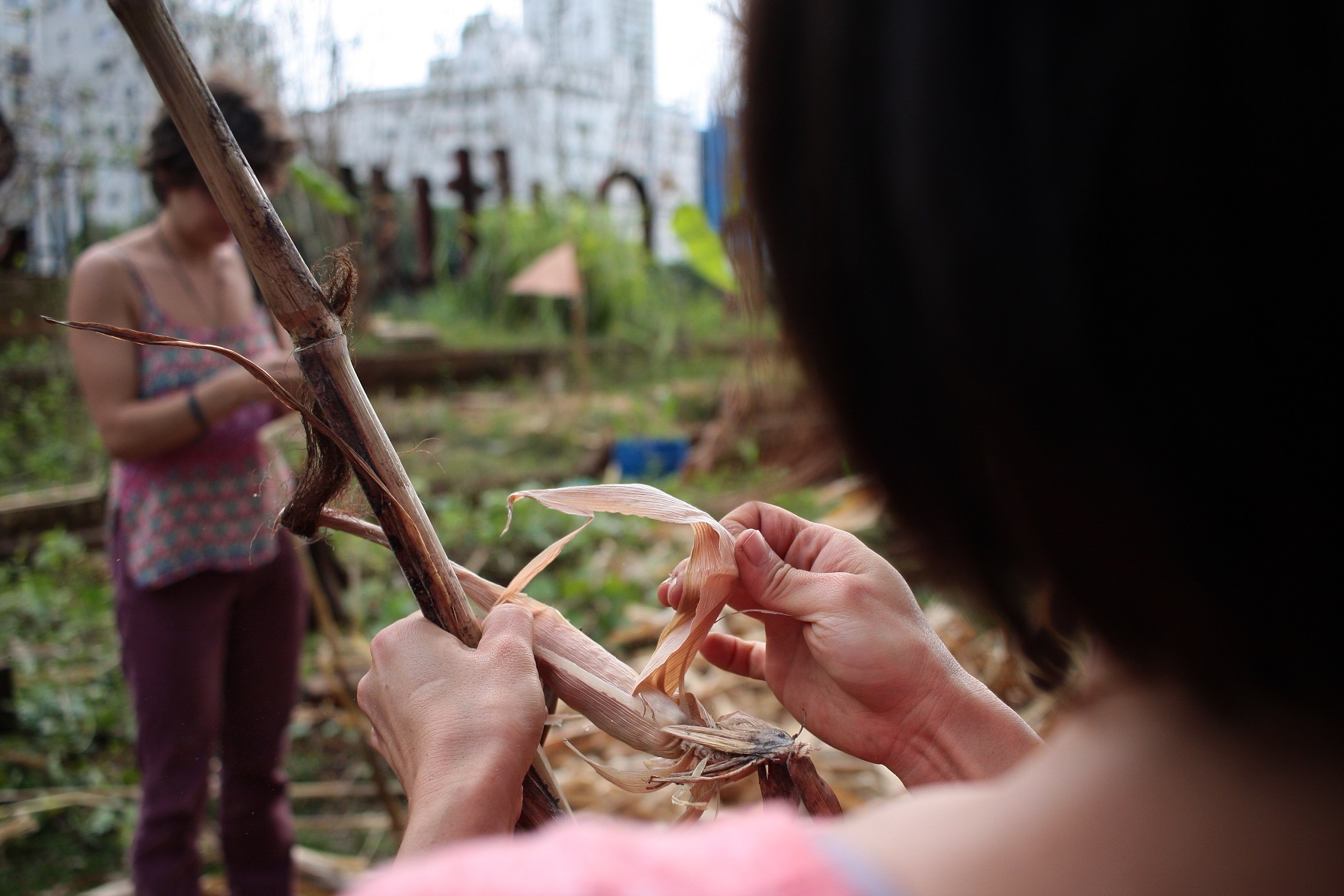 [ita] Siamo stati lì non solo per osservare il ciclo naturale di alcune piante viste a gennaio, ma soprattutto per capire come si erano srotolati gli eventi all'interno dell'orto. Ci sembrava infatti bello concludere la ricerca di Echoes of Ecologies nel luogo fondamentale del suo principio, soprattutto perché di un altro principio si trattava.. dato che nei mesi scorsi la Horta era rimasta chiusa a causa di manutenzione. Il mutirão è stato organizzato appunto per recuperare l'orto in seguito alla riapertura del Centro Cultural. 
[eng] We went there not just to observe the natural cycle of some plants we had seen in January, but above all to understand how the garden's events unrolled. We thought it nice to end Echoes of Ecologies' research in the fundamental place where it started, as it was actually another start after the Horta's closure due to maintenance. Indeed the mutirão was organised to recoup the garden after the Cultural Centre's reopening. 
[esp] Estuvimos allí no solo para observar el ciclo natural de algunas plantas vistas en enero, sino sobre todo para comprender como se habían desenrollado los eventos en la huerta. Nos parecía bonito concluir la investigación de Echoes of Ecologies en el lugar fundamental de su principio, ya que realmente era otro principio como la Horta estuvo cerrada durante los meses pasados para obras de manutención. El mutirão se organisó justo para recuperar la huerta después de reabrir el Centro Cultural.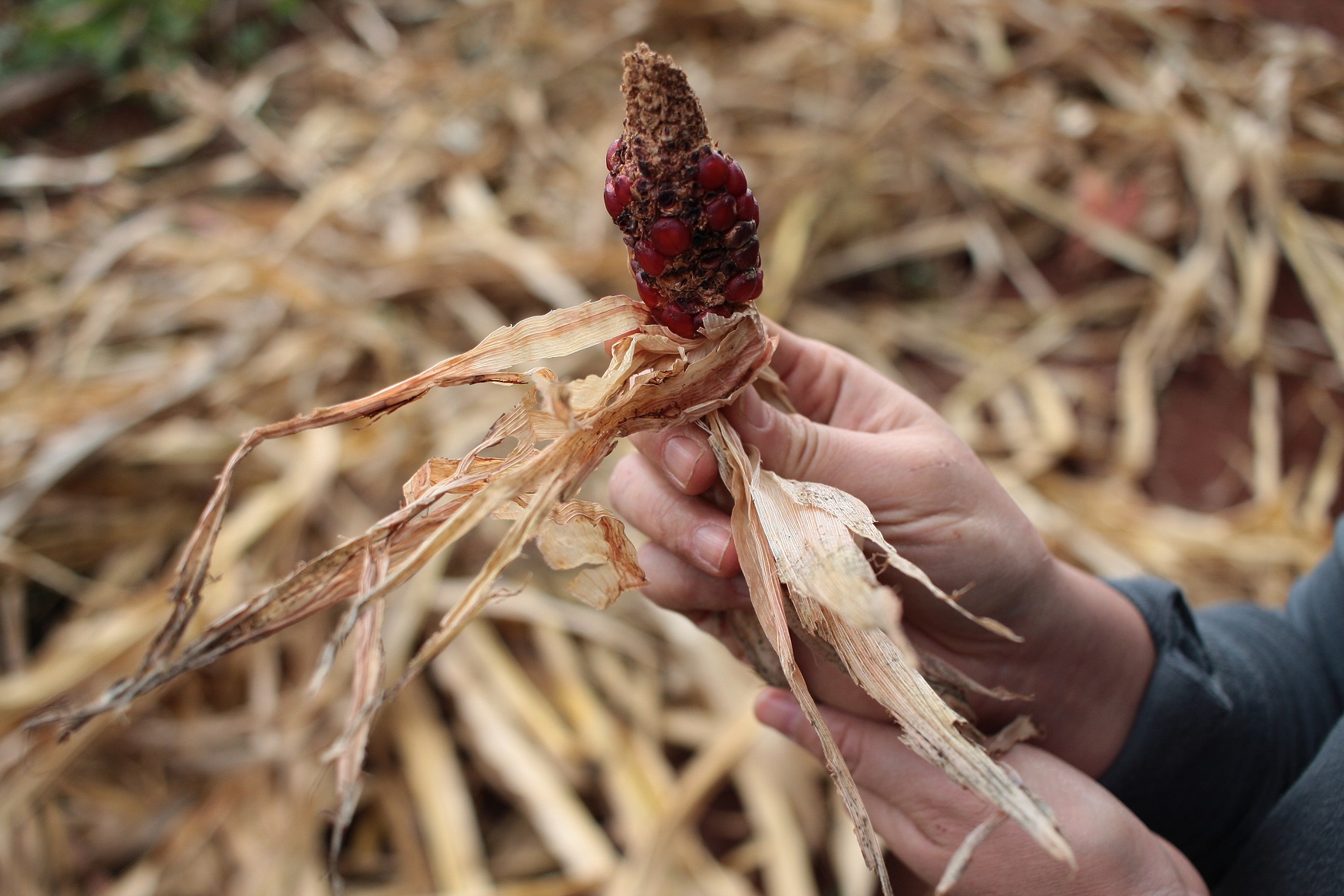 [ita] Quella che sembrava una difficile domenica di duro lavoro, è stata invece una buona giornata d'inizio dentro il cerchio di collaborazione dell'Horta CCSP. In effetti poche mani, assieme a tanta determinazione, hanno permesso che si raccogliesse e riordinasse molto. Fortunatamente le tecniche dell'Hugelkultur e della pacciamatura avevano mantenuto il terreno abbastanza umido per la sopravvivenza di parecchia flora… quindi l'ambiente è rimasto – nonostante l'ecosistema danneggiato – e le sementi per il prossimo ciclo pure! L'atto di rinascita più significativo è stato sicuramente l'aver formato e piantato un'intera aiuola con fiori e piante alimentari: volti nuovi e conosciuti uniti dallo stesso sentimento che sono quelle piantine la vita per noi! Non possiamo che augurare un rinnovato interesse verso la profondità educativa del progetto, oltre l'appoggio e la fiducia a coloro che in questo verde continuano a mettere il cuore – non solo perché sono stati per noi dei veri amici e punti di riferimento, ma anche perché crediamo fermamente nella loro oasi di avvicinamento all'agricoltura ed agroecologia urbana. Una in più che migliora la città metropolitana di São Paulo.
[eng] What seemed like a difficult Sunday of hard work, became instead a great beginning day within the circle of collaboration at Horta CCSP. As a matter of fact few hands, together with much determination, allowed to harvest and tidy a lot. Fortunately the Hugelkultur's and mulching's techniques kept the soil humid enough for the survival of much flora… so the environment was there – despite its damaged ecosystem – and seeds for the next cycle as well! The most meaningful act of rebirth surely was making and planting a whole flowerbed with flowers and edible plants_new and known faces united by the feeling that those little plants are life to us! We thus wish a renewed interest in the project's educational profundity, besides support and trust to those who continue to put their heart in the garden – not just because they were our real friends and reference points, but also as we strongly believe in their oasis like an introduction to urban agriculture and agroecology. One more that improves the metropolitan city of São Paulo.
[esp] Lo que parecía un difícil domingo de duro trabajo, se volvió en un lindo día de inicio en el círculo de colaboración de la Horta CCSP. De hecho pocas manos, junto a tanta determinación, permitieron cosechar y arreglar mucho. Afortunadamente las técnicas de Hugelkultur y de la cobertura mantuvieron la tierra bastante humeda para la sobrevivencia de mucha flora… así el ambiente quedó – aun con su ecosistema dañado – y las semillas para el próximo ciclo también! Por supuesto el acto de renacimiento más significativo fue formar y plantar un cantero entero con flores y plantas alimentarias_rostros nuevos y conocidos unidos por el sentimiento que esas plantitas son la vida para nosotro/as! Deseamos entonces un renovado interés hacia la profundidad educacional del proyecto, además el apoyo y la confianza en aquello/as que en este verde siguen poniendo su corazón – no solo porque fueron unos verdaderos amigos y puntos de referencia, sino porque creemos firmamente en su oasis de acercamiento a la agricultura y agroecología urbana. Una más que mejora la ciudad de São Paulo.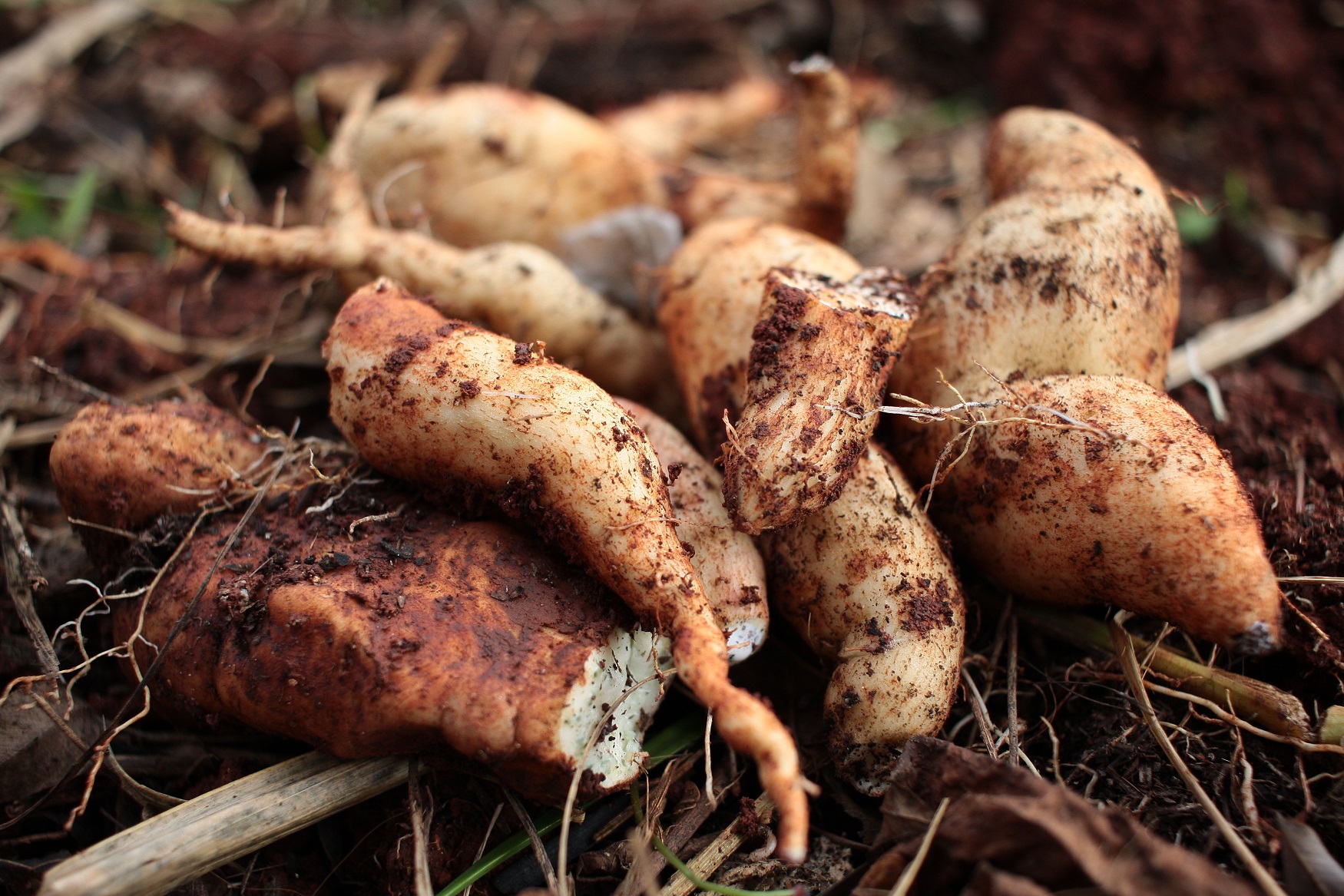 [ita] Quindi il bello non è stato trovare tutto come ci aspettavamo, bensì scoprire quanta gente si s'impegna a perseverare nei propri obiettivi_che nel caso dell'ecologia sono comuni. Un giorno, ne siamo certi, ci sarà un 'linguaggio' capace di coinvolgere tutti/e. Bisogna solo coltivarlo, in pace. Questo fa la gente di Horta CCSP e questo faremo anche noi_ ancora di più, d'ora in poi.
Come potete immaginare, abbiamo bisogno di un po' di tempo per assorbire l'intenso vissuto di questi mesi appena passati. Per questo vi chiediamo di interpretare le nostre parole come un saluto a breve termine, un arrisentirci a presto con delle nuove interessanti notizie dal vecchio mondo. Intanto da due giorni siamo in terra di casa e ieri abbiamo già seminato tutto ciò che il Sud America ci ha donato…
[eng] Then the nice part wasn't finding everything as we expected, it was discovering how many people do put effort in keeping at their goals_which in the case of ecology are common. One day, we're sure, there will be a 'language' able to involve all of us. It just needs to be cultivated, in peace. This is what people of Horta CCSP are doing and this is what we are going to do_even more, from now onward.
As you may imagine, we need some time to absorb the intensity of what we lived in the recently past months. That's why we ask you to interpret our words as a speak soon in short time, with some other interesting news from the old world. Meanwhile it's two days we're back on homely soil and yesterday we sowed all that South America donated to us…
[esp] Así que la parte buena no fue encontrar todo como esperabamos, sino descubrir cuantas personas se empeñan en perseverar en sus objetivos_que en el caso de la ecología son comunes. Un día, estamos seguros, habrá un 'lenguaje' capaz de involucrar a todo/as. Solo hay que cultivarlo, en paz. Esto es lo que hace la gente de Horta CCSP y esto haremos nosotros también_todavía más, desde ahora en adelante.
Como pueden imaginar, necesitamos un tiempo para absorbir la intensidad de lo que vivimos en los meses recién pasados. Por eso les pedimos de interpretar nuestras palabras como un saludo a corto plazo, con nuevas noticias interesantes desde el viejo mundo. Mientras tanto hace dos días que estamos en tierra de casa y ayer sembramos ya todo lo que Sur América nos donó…