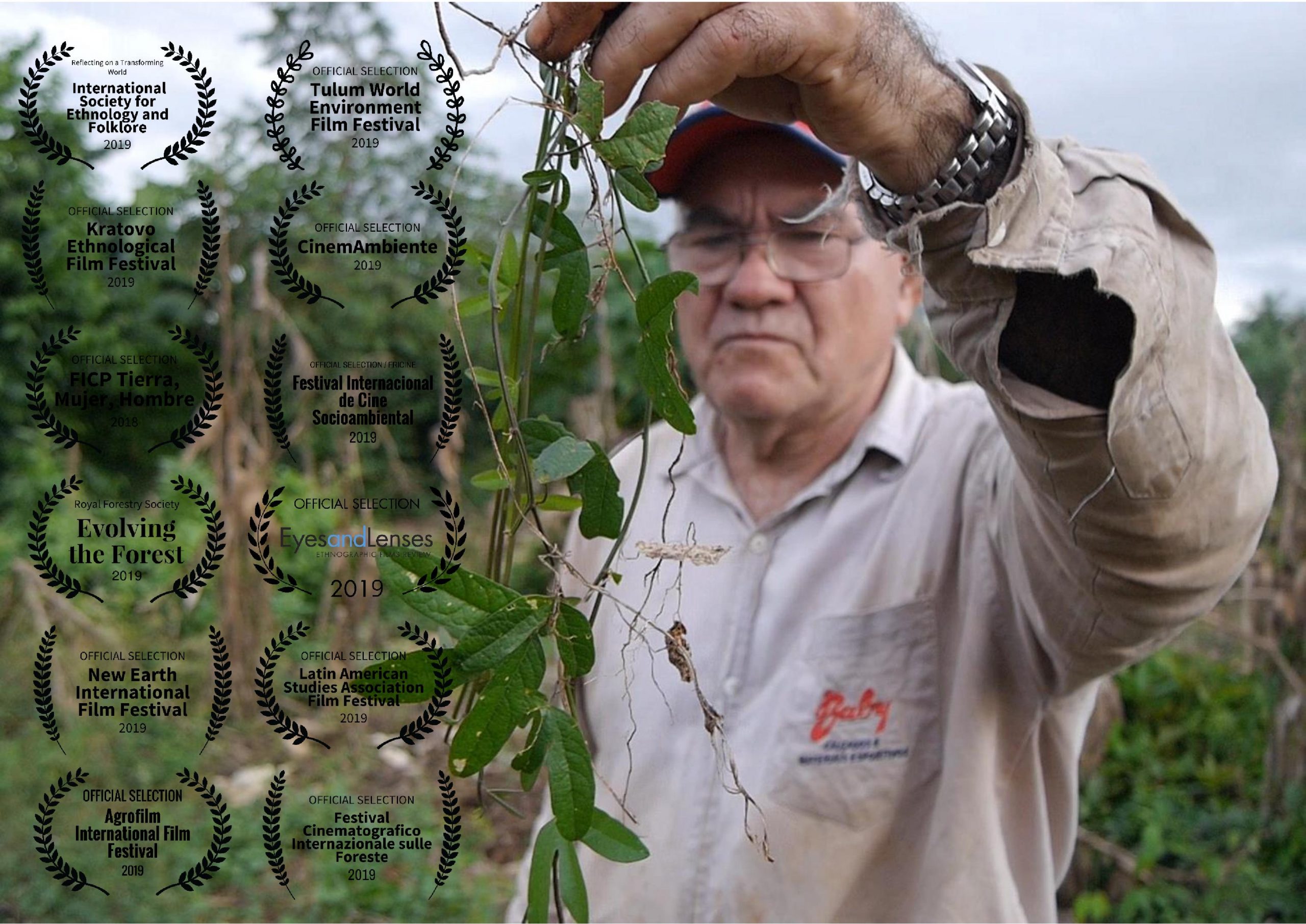 [ita] I Yuyos sono tutte le piante spontanee che possono essere medicinali o semplici erbe. Ci sono yuyos tossici e altri benefici per la salute.
Nella Colonia Luz Bella, in Paraguay, i ricercATTOri Giulia Lepori e Michał Krawczyk vivono con la famiglia contadina Franco Gauto per documentarne le conoscenze etnobotaniche in relazione alla loro quotidianità. Nato per riscattare il patrimonio della medicina naturale di una famiglia dedicata all'agroecologia, il film etnografico si fa portavoce di una comunità in convivenza con la deforestazione. In un contesto di condivisione familiare, facilitata soprattutto dalla bevanda sociale del tereré, i yuyos diventano agenti narrativi di storie d'impegno ed eco-resistenza.
[eng] Yuyos are all spontaneous plants that can be medicinal or simple herbs. There are yuyos that can be toxic and other that are beneficial for health.
In Colonia Luz Bella, Paraguay, the reSEARCHers Giulia Lepori and Michał Krawczyk live with the peasant family Franco Gauto to document their ethnobotanical knowledge in relation to their daily life. Born to recover the natural medicine's heritage of one family involved with agroecology, the ethnographic film speaks for a whole community in cohabitation with deforestation. In a context of familiar sharing, eased by the social beverage of tereré, yuyos become narrative agents of stories of commitment and eco-resistance.

[esp] Yuyos son todas las plantas que salen, que pueden ser medicinales o yerbas simples. Hay yuyos de toxicidad y otros beneficiosos para la salud.
En la Colonia Luz Bella, en Paraguay, los INvestigadores Giulia Lepori y Michał Krawczyk viven junto a la familia campesina Franco Gauto para documentar sus conocimientos etnobotánicos en relación a su vida cotidiana. Nacido para rescatar el patrimonio de la medicina natural de una familia dedicada a la agroecología, el film etnográfico se vuelve portavoz de una comunidad en convivencia con la deforestación. En un contexto de condivisión familiar, facilitado por la bebida social del tereré, los yuyos se hacen agentes narrativos de historias de empeño y eco-resistencia.

Proiezioni ufficiali:  / Official screenings:  /  Proyecciones oficiales:
FICP, Festival Internacional de Cine de la Patagonia: Tierra Mujer Hombre – Aug 2018, Argentina. Official Selection. CinemAmbiente, Festival CinemAmbiente – Mar 2019, Italy. Official Selection.
SIEF2019, International Society for Ethnology and Folklore Congress – Apr 2019, Spain. Audiovisual Program.
Geopoetics: relations with the earth, Griffith University Symposium – Apr 2019, Australia. Audiovisual Program.
LASA2019, Latin American Studies Association Congress – May 2019, USA. Official Selection.
Festival del Viaggio 14° edizione, Palermo – Jun 2019, Italia. Official Program.
Oczy i Obiektywy XIV, Festival of Ethnographic Film – Jun 2019, Poland. Official Selection.
Festiwal Wibracje, Festival Wibracje III – Jun 2019, Poland. Keynote Presentation.
Evolving the Forest, International Summit Evolving the Forest – Jun 2019, England. Audiovisual Programme.
SEFF, Smaragdni Eco Film Festival – Jun 2019, Croatia. Official Selection.
TWEEF, Tulum World Environment Film Festival – Jul 2019, Mexico. Official Selection.
International Festival of Ethnological Film – Sep 2019, Macedonia. Official Selection.
Agrofilm, 35th International Film Festival – Sep 2019, Slovakia. Official Selection.
Festival Hacer una Escuela de Cine Comunitario – Oct 2019, Argentina. Official Selection.
NEIFF. New Earth International Film Festival – Oct 2019, Poland. Official Selection.
Festival delle Foreste, I polmoni verdi della terra – Nov 2019, Italia, Official Selection.
Fricine, Festival Internacional de Cine Socioambiental – Nov 2019, Brazil. Official Selection.
Archeofilm, Festival internazionale del Cinema di Archeologia Arte Ambiente – Mar 2020, Italy. Official Selection.
Proiezioni comunitarie / Community screenings / Proyecciones comunitarias:
Griffith University South Bank Campus – Nov 2018, Brisbane, Australia.
At the house of Jane and Jim – Feb 2019, Eureka, Australia.
Casa di paglia Felcerossa – May 2019, Milo, Italy.
El Cántaro BioEscuela Popular – Jul 2019, Aregua, Paraguay.
Thar do Ling: Con le piante, per le piante – Nov 2019, Sagana, Italy.
APS "e-DUcare", Storie di eco-resistenza – Nov 2019, Dordolla, Italy.
Università degli Studi di Udine, Grafie attiviste per l'umanistica ambientale – Nov 2019, Udine, Italy.
Ringraziamo di cuore:  /  A heartfelt "thank you" to:  /  Agradecemos desde el corazón:
Yuyos
Julio César Franco Gauto
Oscar Alberto Franco Gauto
José Domingo Franco
Emeteria Gauto
Alexis Franco Rivas
Antonia Franco Gómez
Asociación Campesina de Productores Alternativos y Ecológicos de Luz Bella ACPAE-LB
Radio Luz Bella Comunicaciones 89.7
Facebook: yuyosfilm