[ita] Cari amici e care amiche, sono ormai due mesi e mezzo che viaggiamo… di scoperte e conoscenze ne abbiamo fatte tante – di idee ce ne stanno venendo molte – di intenzioni per il futuro ne abbiamo ancor di più. Solitamente vi raccontiamo di esperienze vissute, pratiche apprese e vite altrui partecipate.. meno spesso vi diciamo come ci sentiamo noi, come avvengono i nostri spostamenti e con quale facilità-difficoltà. Dunque, visto che la scrittura del prossimo post ci sta impegnando parecchio, abbiamo pensato di condividere con voi qualche foto del nostro ultimo viaggio per entrare in Bolivia. Nonostante sia stato decisamente complicato dal punto di vista geografico-climatico, istituzionale-economico, mettendoci a dura prova fino al pianto… fortunatamente possiamo ancora una volta scrivere che è stata una bella esperienza.
[eng] Dear friends, we've been travelling for two months and a half… we've discovered a lot – we've formed many ideas – we have even more intentions for the future. We usually tell you about our experiences in terms of what practices we learnt and the people we stayed with… though we say very little on how we feel, the way we move_whether it's easy or difficult. Thus, considering that writing the next post is requiring some effort, we decided to share some pictures from our last journey to get into Bolivia. Despite its complications from the point of view of geography-climate, institutions-economy, which really challenged us till the point of crying… luckily once again we can write that we had a great experience.
[esp] Queridos amigos y amigas, hace dos meses y medio que viajamos… descubrimos mucho – formamos tantas ideas – tenemos aun más intenciones para el futuro. Solitamente os contamos sobre experiencias vividas, prácticas aprendidas y otras vidas participadas… un poco menos os decimos como estamos, como viajamos, que si es fácil o difícil. Entonces, dado que escribir nuestro próximo post requiere un poco más de empeño, decidimos compartir algunas fotos de nuestro ultimo viaje para entrar en Bolivia. No obstante fue muy complicado desde el punto de vista geográfico-climático, institucional-económico, ponendonos a prueba hasta llorar… afortunadamente podemos de nuevo escribir que fue una bonita experiencia.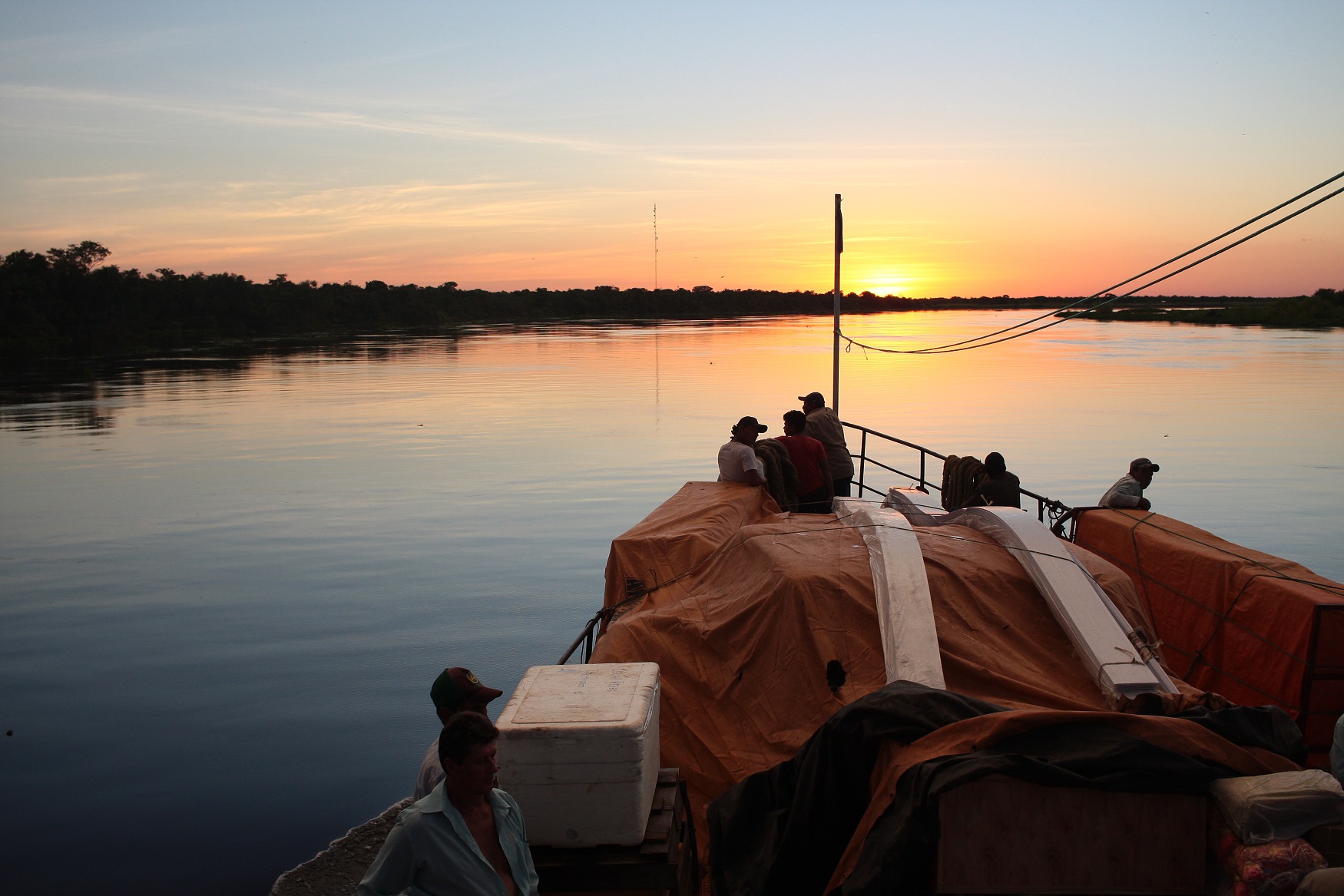 [ita] Di 3 giorni e 3 notti nel battello Aquidaban, di come siamo entrati illegalmente dal Pantanal paraguaiano in quello boliviano, dei militari che ci offrono cibo, della barchetta affittata a dei quindicenni, del posto sbagliato, dei piragna pescati, della notte con i guardaparchi titubanti, dell'autostop di 6 ore sotto il sole, delle banche fuori servizio, del militare che ci presta i soldi, del brasiliano che ci accompagna alla tripla frontiera Bolivia-Paraguay-Brasile, del treno perso e di tanto altro qui non scriveremo. Invece vi diremo con emozione che finora questa è stata la parte più difficile di Echos of Ecologies, così per il buon karma finalmente è giusto ringraziare tutte quelle persone sconosciute che volta dopo volta ci hanno aiutato, spiegato, prestato soldi, comprato biglietti, dato passaggi e offerto del cibo. Ieri per esempio, seduti al mercato di Santa Cruz a condividere una zuppa, una signora ha pagato il nostro pranzo e ci ha abbracciati. Avete un sinonimo per 'grazie'? Così è il mondo che ci immaginiamo e così è come vorremmo continuare a vivere.
[eng] Of 3 days and 3 nights on ferryboat Aquidaban, of how we illegally got from the Paraguayan Pantanal to the Bolivian one, of soldiers offering us food, of the mini boat rented from fifteen-year-olds, of the wrong place, of fished piranhas, of the night with doubtful rangers, of the 6hour hitch-hike under the sun, of banks out of service, of the soldier lending us money, of the Brazilian taking us to the triple border Bolivia-Paraguay-Brazil, of the missed train and much more we won't write here. Instead, with emotion, we tell you that so far this was Echoes of Ecologies' most difficult part, so for the good karma it's right to finally thank all those strangers who time after time helped us, explained, lent us money, bought us tickets, gave us lifts and food. For example yesterday at Santa Cruz's market, while we sat sharing a soup, a woman payed our lunch then hugged us. Any synonyms for 'thanks'? This is the world we like to imagine and this is how we wish to keep living.
[esp] De 3 días y 3 noches en el barco Aquidaban, de como entramos ilegalmente desde el Pantanal paraguayo en el boliviano, de militares que nos dieron de comer, del barquito alquilado a jóvenes de quince años, del lugar equivocado, de pescar pirañas, de la noche con guardaparques dudosos, de 6 horas de carona bajo el sol, de los bancos fuera de servicio, del militar que nos prestó dinero, del brasileño que nos acompagnó a la triple frontera Bolivia-Paraguay-Brasil, del tren perdido y de mucho más no escribiremos aquí. Lo que si os contamos con emoción es que, hasta ahora, esta fue la parte más dura de Echoes of Ecologies, así para el buen karma por fin es justo agradecer a todas las personas desconocidas que paso tras paso nos ayudaron, explicaron, prestaron dinero, compraron pasajes, dieron caronas y comida. Ayer por ejemplo, mientras estabamos sentados en el mercado de Santa Cruz compartiendo una sopa, una mujer nos pagó el almuerzo y después nos abrazó. ¿Un sinónimo para decir 'gracias'? Este es el mundo que imaginamos y en el cual nos gustaría seguir viviendo.