[ita] Il fatto è che condividendo parte della propria vita in un blog, si dovrebbe avere un obiettivo ed un pubblico che lo segua. Si può essere del tutto autobiografici o provare ad usarlo per discutere argomenti preferiti e far circolare idee e quesiti che ci si sente di condividere col mondo. Si possono fare entrambe. Di fatti, un blog è come un diario digitale condiviso. Ancora ricordo Steve Carella (uno dei personaggi dei gialli di Ed McBain) che, dopo aver sfogliato il diario di una vittima, disse al suo collega qualcosa come: ogni scrittrice/ore di diario si augura segretamente che le proprie pagine vengano lette da qualcuna/o. In parte anche per questo abbiamo inventato i blog e le reti sociali: per tenere vivo il nostro bisogno d'interazione e colmare i vuoti comunicativi! Di sicuro, qualunque sia la ragione per cui lo usiamo, un blog non può che crescerci addosso. Lo indossiamo momento dopo momento, finchè non prende la nostra forma, come quelle scarpe vecchie all'ingresso di casa. Quelle che ci piacciono tanto per andare a camminare. Quindi, qualsiasi siano gli obiettivi del nostro blog (specialmente se non monetari), richiede tempo, passione, confusione, traguardi e fallimenti. Come tutto d'altronde. Lasciarlo andare e ritornarci – mentre ci adattiamo al ritmo della nostra vita che cambia andando avanti. Così, nella forma della mia lentezza, ad un certo punto scriverò su dove e chi sono i nostri campi fisici di lavoro del dottorato – e utilizzerò questo blog per diffondere storie di relazioni socio-ambientali.
[eng] The fact is that as you share some of your life in a blog, you ought to have a purpose and an audience following it. Either you go completely autobiographical or you try to use it to discuss any topic of your preference, bringing about ideas and questions that you feel like sharing out there in the world. You can do both. As a matter of fact, a blog is like a shared digital diary. I still recall Steve Carella (one of the characters of Ed McBain's crime fiction) who, after peeping into a victim's diary, said to his colleague something like every diary writer secretly wishes to have her/his pages read by someone. That's also why we invented blogs and social networks: to revivify our need for interaction and fill communicative voids! Certainly, whatever the reason we use it for, a blog can't help but to grow on us. We wear it time after time until it gets our shape, like those old shoes in front of your door. The ones that you so much love to go walking. So, whatever the purposes of our blog (especially if non monetary), it takes time, passion, confusion, achievements and failure. Like anything really. Letting it go and coming back to it – as we adapt to the changing rhythm of our life that moves forward. Thus, in the form of my slowness, at some point soon I will write about where and who our PhD's physical fields of work are – and I will use this blog to spread stories of socio-environmental relations.
[ita] A questo punto, proprio questo, mi sento di rendere grazie. Ancora. Ora sento di farmi un giro di valzer con le persone fiore che hanno reso gli scorsi 13 mesi in Australia un'esperienza migliore.
Iniziando da Simon. Lui é il cordinatore del mercato biologico di Northey Street Fattoria Cittadina. Andare a Northey fu la prima attività che ci prefiggemmo di fare a Brisbane, la nostra prima domenica, e Simon era lì. Andava sopra e sotto, a destra e sinistra, da tutte le parti assicurandosi che tutto fosse. Sembrava la persona giusta per "qualche" domanda. Non solo rispondeva a tutto ciò che ci domandavamo, anticipava pure altri quesiti e bisogni. Se lo dovessi descrivere con una frase, direi: è quella persona che ti fa vedere sempre che la vita è piena di alternative. L'alternativa, per esempio, di avere un marciapiede grigio e spoglio sostituito con uno verde e florido. Fu grazie alla sua iniziativa che il movimento temporaneo di Green the Street rimase in vita, evolvendosi durante l'anno passato, presentando la possibilità di strade urbane più verdi e biodiverse. Non appena piantammo le aiuole di fronte a casa, iniziammo a condividere l'aria con tante danzanti api native, in particolare la blue-banded. Grazie, Simon, per la tua gentilezza, per tutto ciò che prendemmo in prestito, per i tuoi fermenti e le piante!
[eng] At this point, this one, I feel like being grateful. Again. Now I feel like having a round of waltz with those flower people who've made these past 13 Australian months a better experience.
Starting with Simon. He's the coordinator of the Northey Street City Farm Organic Markets. Going to Northey was the first activity we set out to do in Brisbane, on our first Sunday, and Simon was there – going up and down, left and right, all over the place making sure that everything was. He seemed like the right person to approach for "a few" questions. Not only he replied to all we were wondering about, he even anticipated other inquiries or needs. If I were to describe him with one sentence, I'd say: he's the person who always shows you that life is full of alternatives. The alternativ,e for example, of having a grey and bare footpath substituted by a green and thriving one. It's thanks to his initiative that the Green the Street temporary movement kept alive and evolved throughout the past year, presenting the possibility of greener and more biodiverse urban streets. As soon as we got our verges planted, we began sharing the air with many dancing native bees, the blue-banded in particular. Thank you, Simon, for your kindness, for all that we borrowed, for your ferments and plants!
[ita] Andando Avanti, penso ad Andy Paine. Fu proprio a casa di Simon che sentimmo il suo nome per la prima volta, e così scoprii i suoi blog, musica, programma radiofonico, zines, e corpo. Lo descrivessi con una frase, direi: è come immagino potesse essere Gesù. E se Gesù trasformava l'acqua in vino e i pani in pesci, Andy, con molte altre persone simili, convertiva cibo di scarto in pasti deliziosi per coloro che non possono permettersene uno o il lusso di condividerlo con un sorriso sul volto. Questo è Food Not Bombs: solo una delle meravigliose attività a cui Andy contribuì durante la sua permanenza a Brisbane. Adesso è partito, ed anche se lo conoscemmo per poco, mentre lo abbracciai dopo una delle sue performance da cantautore, mi sentii triste pensando che forse non l'avrei più rivisto, ma felice di aver avuto l'opportunità di conoscerlo in questa vita. Grazie, Andy, per la gioia ed il coraggio che continui a diffondere ovunque tu vada!
[eng] Moving ahead, I think of Andy Paine. It was actually at Simon's house that we heard his name for the first time, and that's when I discovered his blog, music, radio programme, zines, and body. Should I describe him with a phrase, I'd say: he's like I imagine Jesus was. And if Jesus transformed water into wine and bread into fish, Andy, with so many other like-minded people, converted dumpster food into delicious meals for those who can't afford one or the luxury of sharing one with a smile on their face. This is Food Not Bombs: only one of the amazing activities that Andy shaped during his stay in Brisbane. Now he's left, and even though we only knew him a little, while hugging him after one of his singing performance, I felt sad thinking that perhaps I wouldn't see him anymore, but happy to have had the opportunity to meet him in this life. Thank you, Andy, for the joy and courage you keep bringing about wherever you go!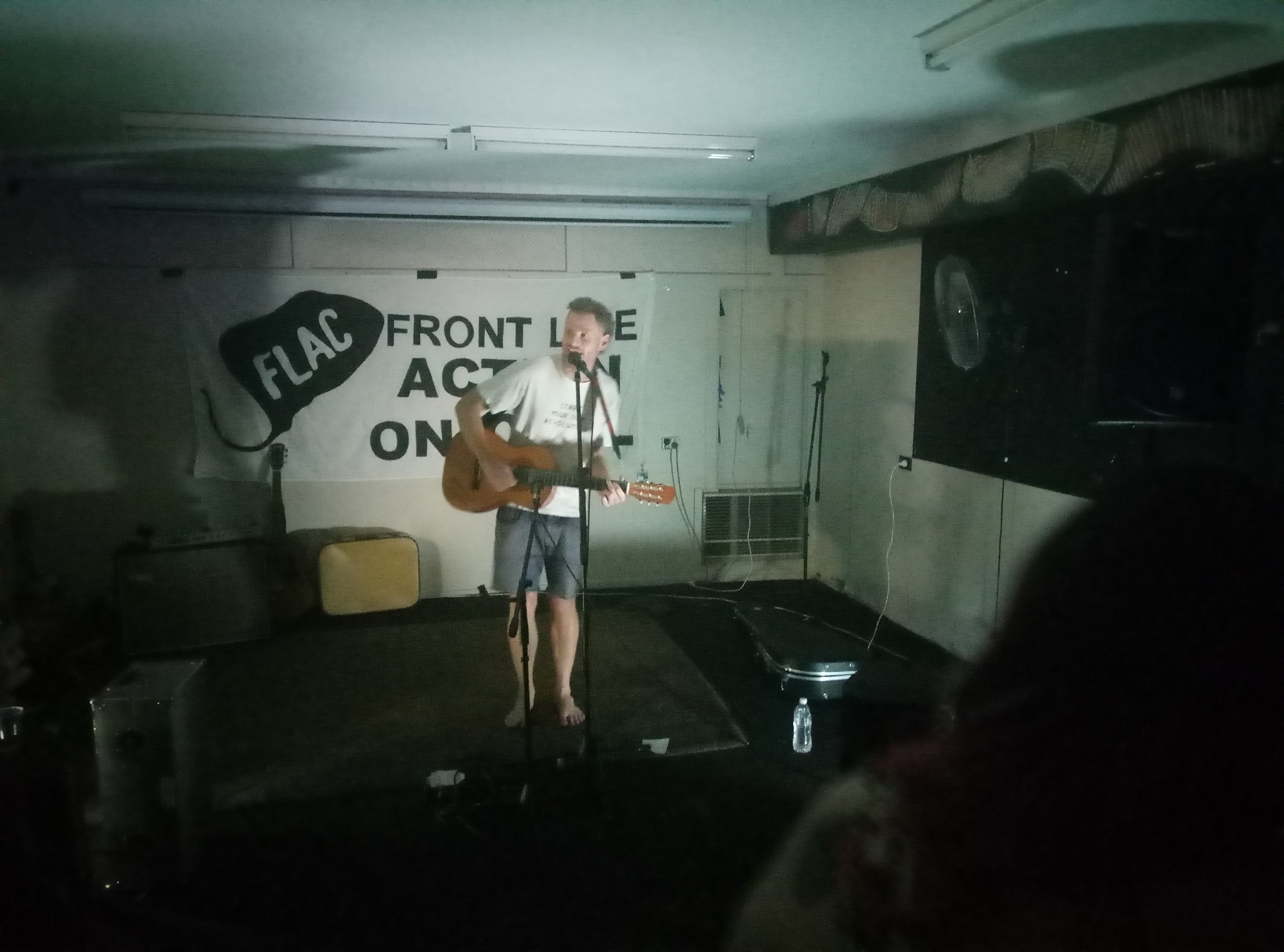 [ita] A chiudere, ecco che arriva Brooke. Lei era la nostra bellissima vicina. In una frase: è come i vostri migliori amici; l'amica.o che speri di trovare quando ti trasferisci dall'altra parte del mondo. Brooke ci offrì amore e ancora amore mentre fummo vicini della porta accanto. Una notte andammo assieme alla cena comunitaria della casa di ospitalità 'Dorothy Day' (dove viveva Andy) e lì trovammo una simpatica ragazza brasiliana. Più tardi scoprimmo che Natalia conosceva l'agronomo Marquito, che avevamo visitato due anni prima a Florianopolis. Sullo stesso campo magnetico, Brooke fu la nostra stretta collaboratrice nella creazione di una casa allegra con un senso di comunità. Assieme organizzammo sei feste-incontri ufficiali aperte a chiunque per condividere chiacchiere, cibo, bibite e musica, giusto per ricordarci che le persone sono sempre dietro l'angolo: se non vengono da te, vacci tu! Grazie, corpo magnifico!
Oggi, svegliandoci in Sicilia, rientrate.i nel paese natio, rendo grazie alla vita per queste generose offerte. Credo che la mia vita da adulta debba essere un gentile inchino di gratitudine.
[eng] Wrapping up, here comes Brooke. She was our beautiful neighbour. In one phrase: she is like your best friends; the friend you hope to find as you move to the other side of the world. Brooke offered us love and more love as we lived next door. One night we went together to 'Dorothy Day' House of Hospitality's communal dinner (where Andy used to live) and there we met a nice Brazilian girl. Later on, we found out that Natalia knew agronomist Marquito, whom we had visited two years before in Florianopolis. On a similar magnetic field, Brooke was our close collaborator in the creation of a jolly household with a sense of community. Together we've organised six official party-gatherings open to anyone to share a night of talks, food, drinks and music, just to remind ourselves that people are always around the corner: if they don't come to you, you go to them! Thank you, beautiful body!
Today, as we wake up in Sicily, back to my home country, I thank life for these generous offers.
I think that my life as a grown-up should be a gentle bow of gratitude.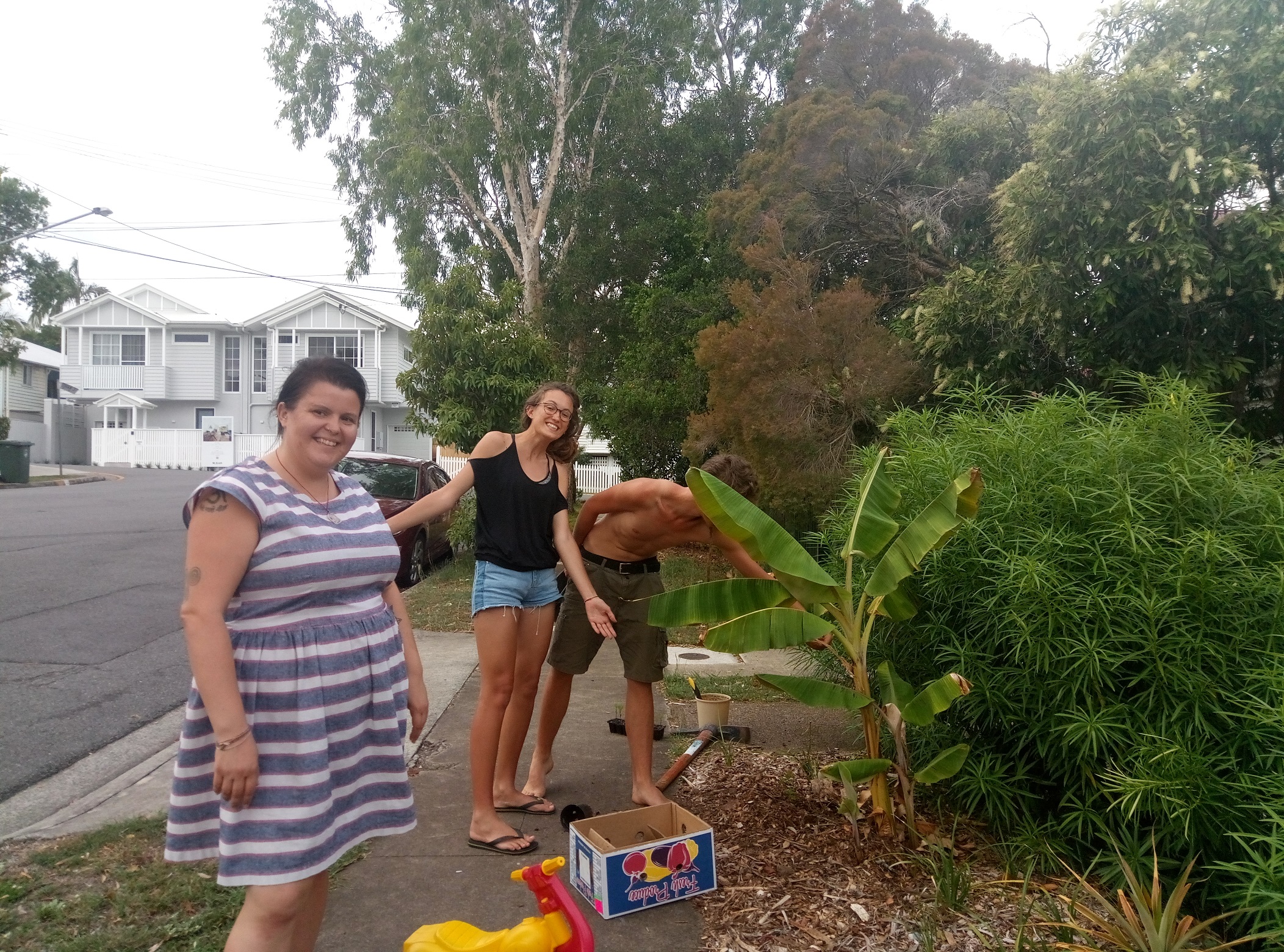 FYNC – Find Your Name Commemoration:
brooke & malachi & budgies, rell & viv & oscar & meg & charlie & jim & alex & henry & eddie & roosters & chooks, benjamin benji, juan & carina, our neighbours the possums, the eucalyptuses, the lilly-pillies, the bottlebrush, the crows, the australian magpies, the noisy miners, the lorikeets, luisa & daya, dennis & sunny, simon & fiona, thor, northey st, ollie, olive, andy & dorothy day house, food not bombs, chewsday collective & all brisbane's food coops, jessie, jo, ruben, shannon & carlie & ziggy, cat, green the street, jonathan sri, west end & suburbs, the burrow, sovereign food, morag, food connect, kou, siti, katherine & jan, zhila, david, stuart, leah, david supervisors, griffith, sue, nadine, susan, natalie, natalia, janaya, lui, stephen for the honey, the light after the rain, the light of Summer, the Summer breeze, the Summer rain, the luminous light of Autumn, kea & alberto, jane & jo & kate & will, jane st community garden, mullumbimby community garden, qagoma, palace cinemas, the state library, annerley library, annerley bookshop, annerley op shops, people asking for information, people giving information, dean, green groceries, mick's nuts, david the guitarist, langri tangpa buddhist centre, ven. lozang, amanda, michael & chantelle, caroline, mydrishti, vera, james & emma, tony, ana, romi & santi, kilometric walks, govinda, parks, mt coot-tha, glass house mountains, jura jalingbila, quandamooka, boomerang bags, reverse garbage, koalas, kangaroos, wallabies, kookaburras, moreton island, goannas, frangipani, bearded dragons, geckos, cockroaches, spiders, starfish, alaisha, holly, ahri, lower portals, turnstyle community hub, paradigm shift, bread mailing list, brisbane river, meanjin, paper moon, eureka, bangalow, deebing creek, mango, bunya, cabarita, gold coast, bribie island, coochiemudlo, refugees welcome queensland, stop adani, byron bay, nimbin, mamma & martina, people asking for money, people giving money, people smiling, people trying to smile, random acts of kindness, sydney, melbourne, daylesford, artist as family, country & community